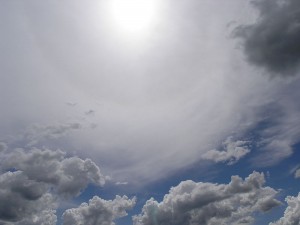 "The Spirit of the Lord is upon me."  Luke 4:18
Whenever we see someone so consumed by something that they cannot focus on anything else, we say they 'eat, sleep, and drink' whatever they are consumed by.  It may be a sport, a career, money, a diet, or even a religion.  They have an aura about them and become known by their enthusiasm for it.  This can be either a good thing, or a bad thing, depending on what it is, depending on the extent to which it controls the person.  There are two key questions to ask when deciding whether it is an enthusiasm or an obsession.  Does it add or take away from life?  Does it serve a higher good?
By definition the word sacred means to be consecrated to God.  Being consecrated to God, our Creator, our Savior is all encompassing.  It is a way of life.  If we 'eat, sleep, and drink' our faith we will create an aura around us.  Unlike the others auras mentioned above, this one is sacred.  When we walk with Christ, we create a sacred space around us.  We can choose to let in only that which serves a higher good, that which brings us closer to God.  Our sacred space becomes both our light, and our protection.  In it we are safe, free from evil.  Out of it we are vulnerable to attack by evil.
From within our sacred space we exude sacred energy.  Others will know we walk with Christ by our enthusiasm to embrace life, by our concern and care for all.  Others will be drawn to our sacred space, drawn to the Light.
Each and every day we have the ability to bring the Light of Christ into the world.  Let us be drawn into His aura, His sacred space.  Let us walk with Him throughout our life creating a sacred space around us and welcoming all!
May the Spirit of the Lord be upon you.

Copyright secured by Digiprove © 2012-2014