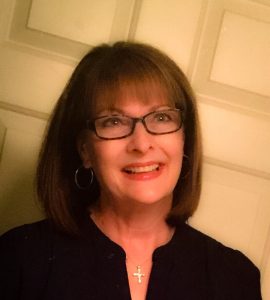 Martha McDuff  Wiggins
A little about me … By the Grace of God, The Great I AM:  i am.
i am, because He IS.
i am, because He GIVES me being.
i am WHAT He GIVES me to be

What I am given to be—
I am Catholic; married 48 years; mother of 3 grown children; grandmother of 5; an artist; an inspired writer; and an earthly  spiritual being on my orbital path around the celestial body of God Most High, held in place by the Saving Grace of my Lord and Savior,  Jesus Christ!
A little more about me …  I am in love with life!  I also love beautiful art; the sound of fingers sliding across guitar strings; lyrics that make my heart sing, smile, laugh, cry, etc.; old movies, and in my next life, I want to dance!
Pet Peeve … I think it is terribly unfair that every time the name Martha is
used in old movies it is to portray an old maid, a fat housekeeper, a doddering old fool, or some other undesirable character!  However, I see the name Martha as rooted in the Bible and forever linked with her sister Mary. Martha was a doer, Mary a reflector. I find it a constant battle to be Martha on the outside (accomplishing the duties I have been given) while remaining Mary on the inside (reflecting on Jesus and offering all up to Him in unceasing prayer). So my personal goal is always to be Martha on the outside, while being Mary on the inside; to be a doer by meeting my responsibilities, while remaining internally/spiritually at the foot of the cross; to be the best of both Martha and Mary in the Bible. I often fail miserably.
What to expect … This is a simple site based on a simple faith, mine. I have a very simple view of life and faith and that is what you will get here … honest, heartfelt commentary. While my own beliefs and opinions are rooted in Catholicism, I do believe one will find much here that transcends to all Christians. It is my goal to provide inspiration for all. My hope is to point you to The Way, The Truth, and The Life; to facilitate the encounter with Christ, Our Lord and Savior. May He bless my efforts to do so, and your efforts to find Him.
My Plan – Each year I find it helpful to write a spiritual direction plan for the new year ahead.  I don't call it a resolution (I hate New Years resolutions!) I call it my personal mission statement.  I try to revisit it from time to time to see if I need a jump start, or a kick in the butt! Below you will find my current one and all the previous ones since the beginning of The Stillness… An aside- Over the years there have been times of being in a severe spiritual desert. During these times I ran into many obstacles and seemed to be digging deeper and deeper into the sand. I felt as if I was suffocating.  Looking at my 2017 mission statement, thinking I had failed again, I realized it was not a complete failure and waste of time to write it. You see, it served as a reminder of my main goal to reclaim my birthright as a child of God.  It might have taken me the entire year, but I did.  Just before Christmas, I humbly confessed my sins and received the beautiful Sacrament of Reconciliation. I am reborn and alive once again in my faith.  Am I who I want/need to be? Let's just say the road all the way out of the desert is a long one, but one I hope to travel with Jesus at my side as quickly as possible. I have been exhausted trying to travel it alone.  Hence,  my 2018 spiritual  plan was to focus on re-establishing a prayer and stillness routine.  While I had some success in reconnecting through prayer, stillness still eluded me. At least stillness as I knew it previously. Where I found the most connection and closeness in my relationship with Jesus was in my favorite study Bible, The Ignatius Catholic Study Bible New Testament RSV, 2nd Edition. Over the course of the year I reread the New Testament and then the mind boggling and soul stirring Book of Revelations. It awakened a deeper stirring; one I  continued to indulge in 2019. As I entered 2020 I was fully engaged in reading Exodus, along with other Spiritual reading that I find necessary to feed my soul and help me to discern my path. Such reads are "The Prayer of The Presence of God" (Don Augustin Guillerand) and then when feeling 'nudged' to, I accompany it with excerpts from "The Dialogue of St. Catherine Of Siena" (Tan Classics). It always amazes me as to how 'spot on' is the timing of the nudge.  I do at times feel stirred to enter into The Stillness. It is still different and yet at the same time more familiar once again. I am relishing it, as it sometimes leads me to write in the journal again, and has also gotten me to begin other spiritual and even non- spiritual writing once again. So, all in all, 2019 was a year of spiritual progress for me, but still with a long way to go. At least I am now finding a few oases in the long journey through my desert in hopes of returning to my home in "Journey Through The Stillness." In 2020 I continued to grow in Him through much prayer and study. The end of 2020 and beginning of 2021 were difficult times for me personally with two great losses. I learned what it meant to cling to God's steadfast promises, leaning heavily on some of the Names of The Lord I had shared in a 2020 Lenten Book Study I was led to write on The Hebrew Names of The Lord. (It was posted on this site daily, so it's entire content is available. It needn't be just for Lent!) At the beginning of 2022 God rewarded me for my continued trust in His outcomes with two very special gifts. I am in awe of His faithfulness to me and will continue to seek Him with all of my heart daily.  I will also pray for you and your faith journey. May we all lift and support one another always. We are each a child of the same God. 🙏🏻🙏🏻
My personal Mission Statements…
2022 – To seek Him with all of my heart, with an open awareness and anticipation, believing He is already within me and everywhere around me waiting for me to come to Him that He may instill in me a greater faith and a greater eagerness to do His Will in all areas of my life, not just those where it is easy, but especially where I find it to be difficult.
2021 – To hold fast to my promise to meet Him daily; to come humbly before Him in fervent desire to be only with Him, my Lord and Savior, without pretense in any area of my life, regardless of consolations, and with a complete and unwavering trust in His outcomes in all circumstances, that I may belong wholly to Him, in both my earthly life and in Life Eternal.
2020 – To elevate in me the Knowledge and Truth that being created In, By, and For His Love, I am both a Physical and Spiritual manifestation of that Love; and to continually seek through Prayer and Study, in Unity with all He has created and through the Guidance of The Holy Spirit, to live out my earthly life in, and as a witness to, the Grace and Aura of that Love with the ever abiding Hope of Everlasting Life in His Eternal Love.
2019 – To spend more time in The Word Of God infusing The Way into my soul, The Truth into my mind, and The Life into my Heart, that I may grow steadily and humbly into the person He created me to be, faithfully serving Him in all things as His daughter, whether or not I feel His presence or receive His consolations, that He may know I love Him and desire to be His, all through The Immaculate Heart of our Beloved Mother, Mary.
2018 – To re-establish and maintain a prayer and stillness routine that I may be held securely in the realm of The Holy Spirit's heeding and guidance, that my heart be ever open to His stirrings, and my soul be infused with a new and greater longing to remain one with my Savior and Lord, Jesus Christ; all through the Immaculate Heart of His Most Holy and Beloved Mother, Mary, Queen of The Universe.
2017 – To reclaim my birthright as a child of God, through self-awareness, self-discipline, and a renewed openness to the leadings and inspirations of the Holy Spirit; and in so reclaiming, embrace all I am to become through Him, in Him, and with Him, to once again fully understand that I am ever in Him and He is ever in me.
2016 – To seek the virtue of humility, placing all others before self gratification, offering the merits and graces of all that I do and become to Holy Mary, Mother of God, to use as she sees fit, to bring glory and honor to her beloved Son, Jesus Christ, forever.
2015 – Lord, I plan to know You more, to love You more, to serve You more, through our most holy Mother, Mary, that I can better become the person You created me to be, reaping no other reward than Your greater glory and your holy love.
2014 – None (What a mistake!)
2013 – To maintain Stillness, asking to learn humility from Jesus at the foot of His Cross; to learn sacrifice by offering all that I am in service to His Holy Name invoking the Holy Spirit to take all that I am not and perfect me; to consecrate myself to the Sacred Heart of Jesus and the Immaculate Heart of the Virgin Mary that I may humbly reflect them all. (In a nutshell: to learn humility)
2012 – To redouble my efforts to keep Stillness before God at the forefront of my spiritual relationship with Him, that I may gain the necessary knowledge and discernment to go forth in what is mine to do, using each of my talent gifts to joyfully reflect His Glory that all might come to know Him.
2011 – To continue time in prayer and stillness before God discerning what is mine to do, that I may live within His plan for my life spiritually, physically, and financially; to discover and develop fully my creative talents that I may share His love joyfully and reflect His Glory to all.
2010 –To add stillness to my prayer time becoming more infused with God, that I may heed His voice to live according to His plan within my financial means; to share His love for all through my joyful spirit; and to use my creative talents to reflect His Glory.

Copyright secured by Digiprove © 2011-2022