"You are the light of the world. A city built on a hill cannot be hid. No one after lighting a lamp puts it under the bushel basket, but on the lampstand, and it gives light to all in the house. In the same way, let your light shine before others, so that they may see your good works and give glory to your Father in heaven."  Matthew 5:14-16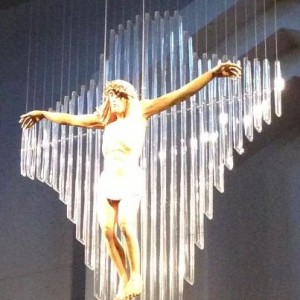 In Webster's New World Dictionary, light is defined as radiant energy by which one sees.  As an artist, as one who loves imagery, I find the definition intriguing.  It actually makes me think of an aura, or a halo, especially when thinking spiritually.
The main focus of the verses from Matthew's Gospel above is light: my light, your light, our light, His Light.  The one true source of all light is Jesus.  He is that radiant energy by which one sees, He is the Light of The World.  We are to be light also; letting it shine forth from within each one of us to reflect His radiant energy, His Glory to all.  Psalm (112:4) says it perfectly, "They shine through the darkness, a light for the upright; they are gracious, merciful, and just."
To make your light shine even brighter, and to keep your light burning brightly for all to see, spend time with Jesus.  Spend time in His Word daily.  Start each morning with a Bible verse, a prayer, and some time in silence with Jesus.  Fill your heart with His Spirit, His Truth, His Light, and then you can't help but shine forth.  It will be as so beautifully stated in Isaiah 58:8,  "Then your light shall break forth like the dawn …" and as in Isaiah 58:10, "Then light shall rise for you in the darkness, and the gloom shall become for you like midday."
     My light, your light, our light, His Light … that radiant energy by which one sees!  May His Light shine forth from me to you, from you to others, and from others out to whole world.  Have a Blessed Sunday Everyone!

Copyright secured by Digiprove © 2011-2014