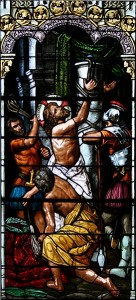 Lord, You are The Lamb.
Forgive me, Lord, when I fail to understand the gravity of all that The Lamb means to life…all that The Lamb means to my life.  Forgive me when I live in sin dishonoring You, The Sacrificial Lamb.
Thank you, Lord, for your loving sacrifice on my behalf.
     We don't often stop to think about what being a sacrificial lamb means.  We must always remember the ultimate sacrifice that Jesus made on our behalf.  Honor Him and His sacrifice by living in an honorable way.

Copyright secured by Digiprove © 2011-2013